What's The Difference Between Selling a $500,000 House and a $5 Million House
The most critical factor in your house selling is choosing the RIGHT agent.
The typical agent will do the 3 'Ps' . . .
Put a sign in your yard
Put your property in the Multiple Listing Service
Pray the right buyer shows up
The RIGHT agent will actively look for buyers for your house through a variety of marketing techniques.
For a $500,000 house that might mean a neighborhood Taco Open House and a Broker's Open House. Of course, your home will be heavily marketed online and should appear on Zillow, Trulia, and Realtor.com.  Most top agents will markets your house on hundreds of sites.  Do not expect to see print advertising, which is a waste of money.
In this price range you should expect some sort of offers (assuming you have priced it correctly) within the first two weeks and a sale in 30 days or less. According to the Institute for Luxury Home Marketing for a $5 million house your agent will be reaching out to their colleagues, previous clients, and list the minute your home is listed.
Many agents will create a 'Themed Marketing Experience' for a for houses priced $2.5 million and above.  These events usually involve other luxury vendors who your potential buyers would likely purchase from.
Think:
*Tesla
*Titos Vodka
*Capital Grille
*Local Florist, Caterer, Designer, Landscaper
Parties may range from the Roaring 20s to Elegant Cocktail Party. The key is for your agent to create an experience for potential buyers and brokers/agents to keep YOUR HOUSE Top of Mind.
In this price range, marketing is extremely targeted.  A good agent will create a website for your property, special brochures to highlight the benefits, features, and qualities of your house, and a other targeted marketing techniques.
More than likely you are a person who 'just wants to see results.' Your agent should be a shrewd negotiator who can handle all of the details for you.  Whether you have a $500,000 or $5 million house, your agent should over deliver.
Get TOP DOLLAR And Real RESULTS (see more below)
If you are a results-oriented, luxury home owner who is ready to sell now for top dollar, and wants an honest assessment, with proven results, you don't want to be bothered with the details of the process . . .
---
I'm Debbie Wysocki and I lead the TEAM with the BEST resources, network, and cutting-edge marketing technology to Get Th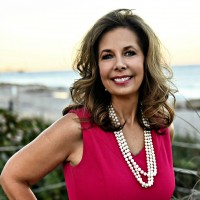 e Job Done!
Get a real Valuation on your House so you can get real Results & TOP Dollar call Debbie Wysocki at 954-579-5720  or  www.DebbieWysocki.com