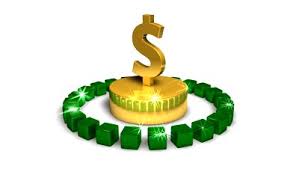 Resources for Real Estate & Your Business
---
Here are some Key Resources that I have found extremely useful over the past 20 years in Real Estate.
Some of them are my most trusted vendors — others are link to mobile APPs that will assist you and save you countless house in research.
Please let me know how I can serve you better or if you need a referral for something that is not here.
Debbie
RESOURCES FOR BUYERS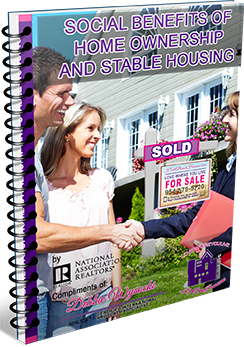 Download: SOCIAL BENEFITS OF HOME OWNERSHIP AND STABLE HOUSING
RESOURCES FOR SELLERS
RESOURCES FOR REALTORS
When you are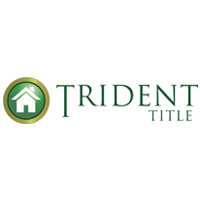 buying or selling, you want to make sure EVERY T is crossed and every I is dotted, and Trident Title is the perfect company to handle this for you. With the recent changes in Florida RE Law, you want to have the VERY BEST Legal Resource behind you. When we write your contract, whether you are buyer or selling, we want to name Trident Title. Feel free to reach out to them in advance if you have any questions and begin the relationship building process. Amy is our liaison in the Fort Lauderdale office. Contact: (954) 903-1202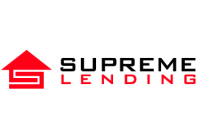 Dennis Hearing is a mortgage professional who is dedicated to handling all your needs. He is well versed in all kinds of loans and will be able to quickly determine and assist you in the qualifying process —  including VA Loans, and foreign national loans.  He will stay with you start to finish — and he is someone you can rely upon. I recommend reaching out to him early in your home hunting process. Supreme Lending – Dennis Hearing  (954) 648-4949
RESOURCES FOR BUYERS ans SELLERS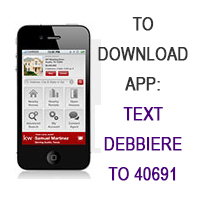 As a home buyer, wouldn't it be great if you could drive through any neighborhood and learn about a house if you saw it was for sale without having to call your Realtor? Well now you can — you can see
photos, videos, and learn the inside scoop of all the MLS listings, FSBOs Short Sales and more.Simply TEXT DebbieRE to 40691. And you will be able to download your very own personalize mobile APP and preview homes and then let me know which ones you would like see in person.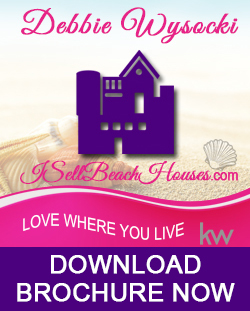 If you're in business, you need tools and resources to both run and grow your business – whether it's a brick a mortar business, you're an independent contractor, you are a high-level executive, you are just starting your career, you are in the direct sales field, in real estate, or an Entrepreneur – in all of these instances, YOU are in business for yourself.
You see, I believe, WE ARE our Brand.
The longer we take to realize this, the longer it takes to build the bank account.
The second point I want to share is  . . . The BIGGER YOUR LIST, the bigger your Bank account.  So this is where you want to start.  And we all know the way you build a list is through building relationships.
If you can build your skill set, your list and focus on referral marketing (giving out more referrals than you get), then you will be busier than you could ever imagine.
Having said that, after recently listening to Dr. John Maxwell a few months ago when he was sharing on the role of Leadership, he noted that as entrepreneurs, we all need to build Leadership Teams.The obvious first reason that comes to mind is that as business builders, the faster we can raise up leaders, the faster we get to the 'walk away' income state.  The second less obvious factor is that no one – not even superwoman, can do everything.  We need to build a second Leadership Team that is our 'Go To' Team to get things done:  A lawyer, CPA, web master, computer geek, assistant, marketing advisor, and various other strategic alliances important to the growth of your business.  I'm sure there are a few more you can think of.
So, while there may be other vendors who are just as good, this is a list I stand behind.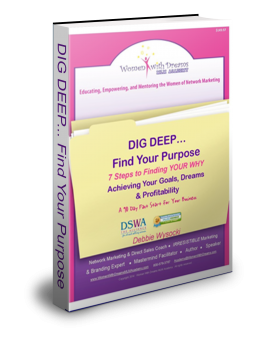 Before we can do anything in our Business, we need to know WHY we are building.  I developed this 90 Day Fast Start Book – 7 Steps to Profitability for my TEAM because we needed to have the correct MINDSET – if you are seeing a high attrition rate when people get NO, then this will be helpful to you.  This workbook and audio will walk them through the steps of writing out their WHY (more than making money).  It includes step
s on what you would do if money were not an object (who would you help, how would you spend your day, where would you travel, live, etc).  It walks them through writing out a WHY statement, creating a VISUAL Dream Board, and a mini Dream Board (to post in multiple place and carry with them).  Next we talk about what will happen if you don't take action OR if you allow someone to STEAL your DREAM.
We move into getting your business started and duplicating the process and the kind of people we want to select for our business.  This product sells for $149.97 at some of my other sites, but here I am selling it for $99.97.
This comes with 2 email consultations (review of your workbook answers and coaching on your WHY statement, if needed). www.womenwithdreamsmlmacademy.com/90days-7steps/
The #1 problem after mindset is who do I talk to!  The flagship product of Women with DreamsMLM Academyis the BE IRRESISTIBLE System.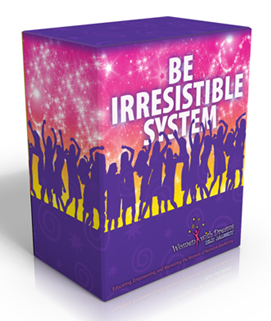 The 7 KEY RECIPES for Attracting a Quality Team:
  Whether you've been in Network Marketing (or Direct Sales) 10 Minutes or 10 Years
in a way that appeals to us Girls and in a way that will have you making money immediately and growing your TEAM!
How to BE IRRESISTIBLE NOW

So what is the NEXT Logical Step? You have the right mindset, you have prospects, YOU need to follow-up. My good friend, Nancy Matthews has a great system that makes Follow-up EASY and FUN . . . It Nancy's 12 Step Follow-Up System nancymatthews.com/mlm-follow-up/
Purchase Your Domain

You will need several domains if you are branding you and your TEAM. The best customer service and the most reasonably priced that we have found is Go Daddy. Their customer service department is open 24/7
Hosting Your Site

We have found Host Gator to be awesome to work with. They have friendly, knowledgeable staff who are available 24/7. For just $14.95 a month, you can host unlimited websites!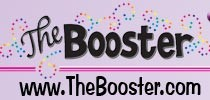 Network Marketers – these products are great for encouraging your customers! Visit www.thebooster.com
My Favorite Auto-Responder

Every online business needs an auto-responder. And not all auto-responders are created equally. If you want an auto-responder that works, you need to use Home Office Pro (HOP).  Simply put, HOP (a product of Platinum Synergy), this Contact Management System rocks.  It is simple to use; has great training videos; and live customer service.  This company make sure your messages past the spam filters. Most importantly, it's affordable and effective. Click the photo to learn more. Home Office Pro is one of the best MLM resources around. (note:  that Silver, Gold and Platinum members have this included in their membership). Visit: www. igravitate.com
Building Your Own Team Website
Our recommendation is Platinum Synergy.  www.PlatinumSynergy.com  They have done 3 big TEAM sites with large back offices, replicated sites for our members, and so much more.  They deliver on time and provide quality service.  Here is the phone # 519-570-9115
High Quality Audio & Video Recording of Conference Calls & Presentations
Audio Acrobat is simple to use from any phone.  You don't have to be a technological genius to figure it out.  Simply dial in and record – you can fully edit any recording.  Good training available.  Just $20 a month.
Tax Education and Record Keeping Tools

Sandy Botkin's Tax Tapes & Other Great Materials—Education is power.  As a former Beverly Hills financial analyst specializing in tax-advantaged investments for high net worth individuals, I found great value in Sandy's very informative audio series.  This information can literally save you $5,000 or more dollars on your taxes.  And Sandy knows what he's talking about—he spent several years in the tax department of the international accounting firm, Touche Ross. He has extensive financial and legal experience, including five years as a legal specialist in the Office of Chief Counsel for the Internal Revenue Service.
SAVE 10% with our Discount Code!
When you visit www.TaxReductionInstitute.com input codewwd-rms
Do You Belong . . .To Our Profession's Organization?

If you were an Actor, you would belong to the Screen Actor's Guild or if you were a truck driver, you would belong to the Teamster's Union.  So, you are part of the Direct Sales or Network Marketing Profession, it's important to belong to the Direct Selling Women's Alliance – the only Professional Organization available to 'field' members.  There are many perks, including insurance for both health and liability and tremendous educational programs. Go check them out at www.dswa.infusionsoft.com/go/DSWA/WWDreams/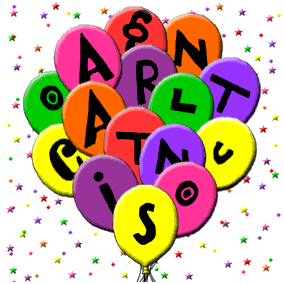 Everybody has at least one special day that it's nice to be remembered on – One of our ways that we like to remember prospects, people on our TEAM and friends is to send them a Birthday Card. The two resources we use are:  www.birthdayalarm.com (electronic cards) and www.sendoutcards.com (physical cards)



How many times do you think about sending a birthday card, thank you card, or general occasion card—but never make it to the store—or post office.  Send Out Cards has taken the work out of card sending.  The cards are high quality, can be personalized  for your brand or TEAM and you can even include gift cards. This is a great way to say thank you to a customer or happy birthday to friends, family, and prospects.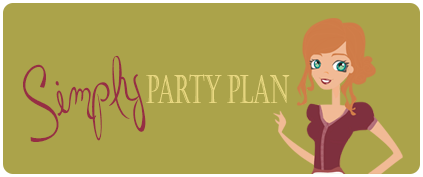 A great place to advertise your Direct Sales or Network Marketing Business for a reasonable price. Visit: live.simplypartyplan.com
Ever Wonder How to Jazz Up YOUR Parties? Well Jenny B. has some great resources that can help you look pulled together and 'first class.' Great ideas for games too!Jenny B. offers specials and giveaways all the time to her customers (HINT to you).
Perry Marshall Google Adwords Course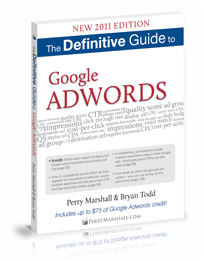 When it comes to online marketing, the key to success is traffic! And the best way to get FAST traffic to your website is with Google AdWords. Unfortunately, if you don't know what you are doing, it can cost you a small fortune. The fastest and best way to shorten your learning curve is to pick up a copy of Perry Marshall's classic course "The Definitive Guide to Google Adwords." This small investment will help you become a pay-per-click guru in no time. And with its small purchase price, you can pay for this course with the money you save from your first Google Adwords campaign. This is one of the first courses I ever purchased when I first got involved with online marketing. This is a MUST HAVE for any SERIOUS online entrepreneur, regardless of your industry. Just click on the image to check it out!
https://m171.infusionsoft.com/go/dgmain/Debwyso/
Conclusion
---
In conclusion, all entrepreneurs need resources and tools to help them grow their business. Although some people succeed without them, most people need extra help to get their business going. If you haven't achieved the success you desire in MLM, maybe you should try a different approach. After all, "insanity is doing the same thing over and over again and expecting something different to happen."
---